Ready meals have come a long way and modern consumers are spoilt for choice. The tasteless TV dinner is a thing of the past and today's options cater for almost every taste and nutritional consideration. High protein, gluten free, organic and plant-based options are all trending and there's a growing demand for natural products with few (or no) additives.
As a single source supplier, Heat and Control has a complete range of industrial processing equipment which can help you keep up with consumer trends — respond to demand — and bring your best ready meals to market.
AirForce® Impingement Oven
A genuine impingement oven is the industry standard for processors of partially and fully cooked ready-to-eat meats. A true impingement oven uses high velocity airflow (above and below the belt) which is distributed evenly across the width of the belt, and along the length of the oven.
The AirForce Impingement Oven is proven to cook products faster and with more uniformity than other ovens. Meat, poultry, seafood, and baked products can be cooked precisely to specifications and each product is cooked equally, regardless of its location on the belt.
The reason this oven cooks dramatically faster than comparable ovens is due to the independent fans above and below the product which create the highest possible convective uniform airflow enveloping the product. This maximizes heat transfer to the product allowing for the fastest possible cook times. This unique process preserves flavour and moisture and produces higher finished yields.
This industry workhorse has many ideal applications including meat, poultry, seafood, prepared foods, breaded/battered foods, baked foods, plant-based products and even pet food.
Lower Oil Content Food Products
The popularity of air fried food continues to grow, and many brands are taking advantage of new product opportunities in the market. The AirFry System pairs the Airforce Impingement Oven with highly accurate Spray Dynamics® oil application equipment to create a high performance, industrial linear air frying system. The system produces a "fried-like" product using controlled application of topical oil, followed by the uniform flow of pressurized, high velocity cooking atmosphere from an impingement oven.
A variety of products can be processed which achieve taste, texture, and appearance that is similar to foods fried using traditional (submersion) frying methods. The equipment can be sized to meet desired production requirements and works with standard batter and breading application systems and ovens, or retrofit existing ovens.
Ideal Applications
Breaded products: non-free-flowing (flour), free-flowing (crumb), Japanese crumb
Chicken breasts, strips, nuggets, and other boneless chicken pieces
Breaded seafood, such as popcorn shrimp
Breaded vegetables, such as onion rings
Breaded cheese sticks
Non-breaded products, such as baked taquitos and egg rolls
Breading & Coating
The best equipment for batter and breading applications creates better products by being able to uniformly apply batters, marinades, breading, and flake coatings. Batter and breading solutions from Heat and Control create better tasting products with a tried-and-true method — that provides total coverage to all surfaces and cavities — and handles a variety of coatings and product types.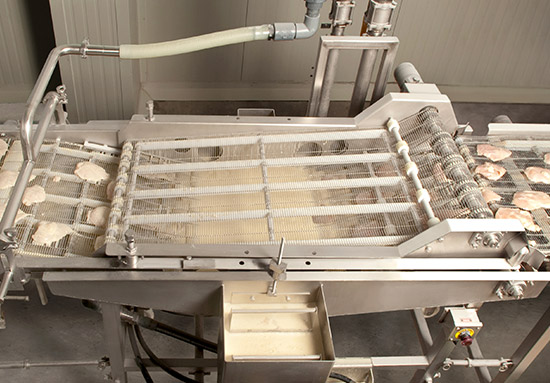 The SureCoat® Batter Applicator is a tough one-for-all coating applicator. This applicator uniformly applies batters and marinades to all surfaces of formed and natural products. All surfaces and cavities are thoroughly coated, including underneath the product. This equipment is built for easy cleaning and reliable operation so production can run without delays and its available in submerger, curtain-fall, and under-pumping models. Ideal applications include poultry, seafood, meat, vegetables, French fries, prepared foods and meat alternative products.
With over 121 million gluten-free consumers in the world, processors are investing heavily in equipment to help them produce (or expand) ready meal ranges and include gluten-free versions of traditional favorites. The biggest trend in breadings right now is gluten-free, and clean label.
Working with an experienced food industry supplier is the best way to create your new recipe — to ensure quality — and make sure the new recipe achieves the same crispiness and flavour development, as traditional breadings.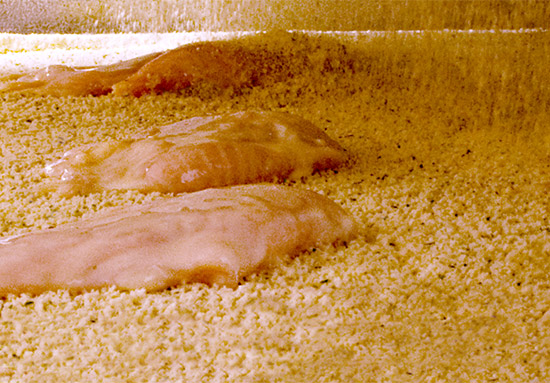 The SureCoat Breading Applicator provides ultimate coverage for all product surfaces and is the industry's hardest working applicator. It achieves the fastest changeover and cleaning times available and is perfect for products like meat, poultry, seafood, vegetables, prepared foods and plant-based products.
SureCoat Breading applicators have a unique design which allows them to uniformly apply flour or batter pre-dust, granular, and non free-flowing breadings — and even delicate Japanese-crumb or flake coatings. Breadings are quickly transferred using large diameter, adjustable-speed augers, and top and bottom coatings can be adjusted independently, which is how they achieve such superior coverage.
Breaded Products Fryer
Widespread restaurant shutdown during the pandemic has contributed to the huge increase in the demand for ready meals. Improved and updated recipes allowed many consumers to enjoy their fried food fix at home, and the undeniable convenience (and year-round availability) of these meals will see their popularity continue.
Clean, efficient, high-capacity frying is key to processing the highest quality breaded products for ready meals. The type of fryer used to cook these types of products has a dramatic impact on the quality of the finished product.
The Breaded Products Fryer provides clean, efficient and high-capacity frying for products such as chicken nuggets, bone-in chicken, meat patties, tempura shrimp, breast fillets, meatballs, egg rolls, coated vegetables and plant-based products.
The Breaded Products Fryer is an industry favourite for prepared foods because it significantly reduces system oil volume; by eliminating heating elements from the fryer pan. Every minute 100% of the system oil volume is circulating between the fryer, filter, and external heat exchanger — and this provides superior oil quality — which creates the highest quality product possible.
With this fryer, incoming oil and product velocities are carefully matched to preserve the product's coatings and orientation, and gentle-flow oil inlets eliminate high velocity currents and maintain uniform oil flow and temperature, across the width of the pan. This innovative fryer uses just enough oil to cover the products, and its total system oil volume is 25-40% less — than comparable direct heated fryers — which allows for faster oil turnover and achieves a longer shelf life for the product.