The Innovator Blog
Tips for Working With Different Coatings for Prepared Foods
Coatings, such as batter and breadings, deliver a desirable product appearance and texture while locking in the food's flavor and moisture. Following is some insight on working with the most common types of food coatings to get the best results from your ingredients and your coating equipment.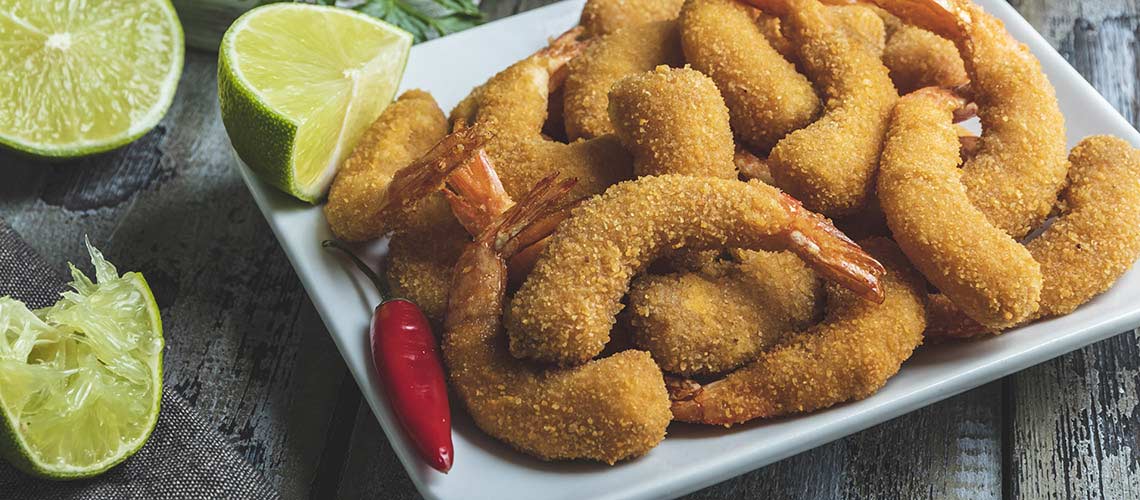 Pre-Dust
Most product is pre-dusted to improve batter adhesion and total coating pickup; smooth or hard surface substrates usually require pre-dusting. Batter needs some amount of roughness and dryness on which to adhere and pre-dusting a substrate creates an excellent surface. Frozen substrates are especially difficult to coat and require faster line speeds to coat before thawing occurs. Pre-dust equipment includes drum breaders, triple flip linear breaders, and standard single pass linear breaders. A drum or triple-flip applicator is especially effective in coating product with hard-to-reach cavities. Drum breaders are useful when running whole muscle products and can also achieve a home-style hand breaded surface texture.
Key Machinery Features:
Flow from the top-coat hopper discharge must be uniform across the width and free of lumps.
The breader transport system must handle heavy and wet flours without jamming.
Pre-dusts and breaders used in frozen fish processing often require double compression rollers.
Large products, such as bone-in chicken and some formed products, require tumbling or flipping to remove excess coating and to ensure complete coverage.
Soft products are typically transferred into a breader on a firm bottom bed to keep their shape.
Bone-in or similar large products are transferred to a deep fluffy bed to get good side coverage.
Standard Batter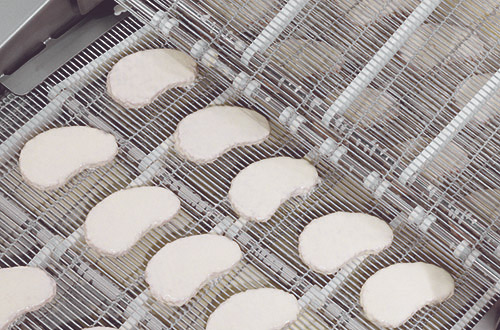 Standard batters are applied through dip-type, top curtain, or underflow applicators. The dip-type applicator is the most used batter applicator because of its versatility and its simple operation. The top curtain applicator is used for products that tend to have orientation issues or for deep packs, such as chicken wings. Successful batter coating depends on two machines that feed the batter applicator: the pre-duster must uniformly coat product to achieve good adhesion, and the batter mixing system must deliver a homogeneous mixture of hydrated batter at a consistent viscosity and temperature.
Key Machinery Features:
The dip-type batter pool depth must be deep enough and adjustable for full product submersion.
Batter pool decline and incline should be at the shallowest possible angle to prevent product from rolling or slipping.
Filtration must prevent product debris and batter lumps from circulating through pumps and manifolds.
The proper belt choice (e.g., pitch, wire size, mesh opening) will prevent batter carry-out and product loss into the batter application tank.
Batter flow in top curtain applicators must be fully adjustable to prevent holding back or disorienting products.
Open and easy access to all machine areas must be provided for thorough cleaning and sanitation.
Tempura Batter
Tempura batter application requires gentle handling; otherwise, the gas contained in the batter will be released by some of the normal mechanical processes (e.g., agitation) and result in a flat batter and an undesirable texture. Tight control of viscosity and temperature regulates the expansion lift of batter and gases, so the mixing system must generate as little heat as possible to prevent gas release. Generally, tempura batters need to be fried at temperatures about 383° F/195° C to ensure a quick sealing of the product surface; lower temperatures can make the coating rubbery and can raise the oil absorption rate. The fry temperature also affects the speed at which the trapped gas expands, which affects coating texture.
Key Machine Features:
The applicator should contain as little batter as possible.
The batter pool depth must be deep enough and adjustable for full product submersion.
Batter pool decline and incline should be at the shallowest possible angle to prevent product from rolling or slipping.
The conveyor should be designed for low friction.
A star wheel can be used to transfer products going directly into a fryer to minimize batter carry-over into the fryer.
Breadings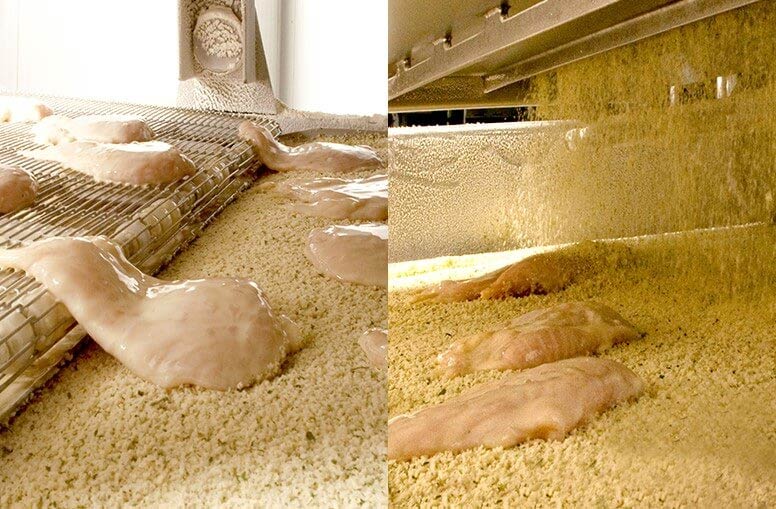 Breadings fall into two general categories: free-flowing and non-free-flowing. Japanese crumb is the most well-known free-flowing crumb. Most other breadings are non-free flowing since they contain very small particles or flour that will cake once slightly hydrated.
Several types of breading applicators are needed to accommodate the many types of available breadings:
Drum, single belt no flip, single-flip, and triple-flip applicators each handle special applications or can be multi-use machines.
Non-free flowing breading applicators have two key elements: a powered top hopper and a high torque drive to handle heavy breading.
Free-flowing breading applicators use a low-volume, non-powered hopper to move the coating as gently as possible. The hopper also includes an adjustable discharge opening that prevents bridging and directs the breading flow to contact the products leading edge, trailing edge, or both.
Drum breaders provide high-capacity pre-dust or breading application.
Recirculated flour or breading is thoroughly applied to all surfaces as product in gently tumbled inside a slowly revolving drum.
Breadings - Japanese Crumb
Japanese crumb is generally a higher cost breading and is used on premium products for the distinctive highlights and crunchy bites it provides. This delicate coating demands that the processing equipment incorporates special features to keep the crumb intact. Special batter is often formulated to ensure sufficient pickup of the lightweight crumb. Too much pressure will damage the crumb; too little pressure and the crumb will not adhere properly through the entire process. Because the product generally sits on top of the bottom bed, side coverage is more difficult than with other breadings. The applicator must handle the breading gently to maintain particle size and must uniformly coat bottom and sides.
Key Machine Features:
The applicator should be capable of handling various breadings and products.
Sufficient drive torque must be available to handle wet breading.
The auger and conveyor must be designed to prevent compacting or jamming.
Breader transport should be gentle to maintain breading particle size.
Interchangeable top and bottom hoppers for both free-flowing and non-free-flowing materials.
Ability to flip product if required.
Ability to provide a uniform bottom bed and uniform topcoat flow.
Ability to provide continuous removal of dough balls and lumps.
Breading volume in the applicator is kept to a minimum.
Ability to select various belt pitches to suit the product being coated.
Features such as a return lift conveyor to prevent crumb damage.