Partnering for success
We take time to listen carefully so we fully understand our clients' goals. Since 1950, we have been creating innovative solutions that have helped our clients to produce many of the best products on the market. We love digging deep and exploring possibilities and then using our experience and expertise to distill our research and trials into the perfect solution.
Project Definition

Define project, processes, operations, and business goals

First, we engage our minds and listen. We want to understand your idea, your objectives, your core processes, and your KPIs. Then we let our passion drive the project, exploring possibilities, pushing limits, analyzing data, and leveraging our deep expertise to create complete solutions that measurably meet your goals.

Project Launch

Engage with our expert team

Each project is unique and calls for a precise set of skills. We'll bring together the engineers, managers, and tradespeople with the specific experience and expertise who can determine the best approach to reach your objectives.

R&D Testing & Trials

Uncover new opportunities

Our research and development teams help bring your idea to life. From creating new processes to refining equipment to fit your needs, we'll test our ideas and explore ways of maximizing the most promising ideas.

Engineered Solutions

Engineer solutions for your application

We do whatever is needed to make the biggest improvements. Whether you need a single machine or a complete line, we create custom solutions that deliver reliable, efficient, and effective performance and overcome production line design challenges.

Project Management

Keep things on track

Once we're ready to begin manufacturing your solution, we'll set-up meetings to confirm equipment expectations, schedules, floor layout, and KPIs that ensure results.

Manufacture

Maintain quality workmanship throughout

We pay attention to the smallest detail with your desired outcome always in mind. From welding to machining, our manufacturing experts are committed to excellence so our equipment lasts a lifetime.

Installation, Commissioning, & Operator Training

Integrate and optimize

We offer a complete solution, including installation services, line commissioning, and hands-on operator and maintenance training to ensure the safety, productivity, and longevity of your new machinery.

Ongoing Support

Trust that our customer support will always be ready

When you buy a piece of equipment from us, we're in it for the long haul. Wherever your plant is located, we offer expert field support for everything from troubleshooting to engineering and application assistance. Spare parts and repair teams across the world provide additional support to keep your production line running.
You can count on us to deliver ROI that goes beyond the dollar
We've been in the business of advancing the food production industry since 1950. We pride ourselves on building strong, long-term relationships with customers who know they can rely on us to help them creatively solve problems, lower costs, increase productivity, and improve quality for the life of the machinery.
Extensive Equipment Systems
Our family of brands and our technology partners brands come together to deliver the most efficient and effective solutions for a wide variety of production requirements.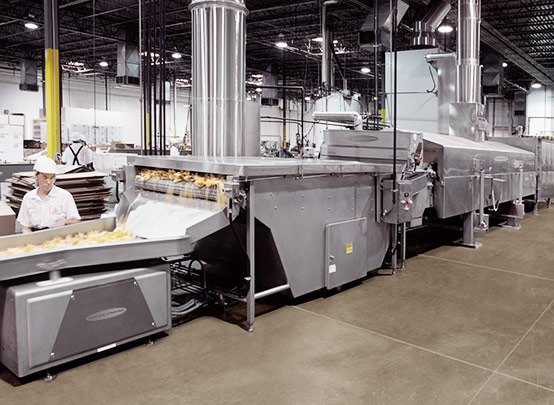 RAW PRODUCE PREPARATION
Our machines can take your produce at any stage—raw, cooked, partially processed—and transport it for processing at the next step on the line—wash, peel, slice, and/or dice root vegetables. With years of experience processing food around the world, our experts have developed extensive and proven preparation solutions for potato chip and french fry systems and optimize efficiency and performance in our smartly designed solutions.
COOKING AND VALUE-ADDED PROCESSING
Our food processing philosophy focuses on two things: flavor and consistency. We've developed innovative technology from food preparation, frying, and baking to ancillary support systems established through decades of experience around the world.
SEASONING AND FLAVORING
We love making food taste good, which is why we support all kinds of seasoning and flavoring applications. For unmatched performance, coverage, and efficiency, check out our FastBack® Revolution® Seasoning System and Spray Dynamics® applicators.
CONVEYING AND PRODUCT HANDLING
Our solutions feature the world-renowned FastBack horizontal motion conveyor, with smart design and line management to achieve accurate feed, accumulation, proportional feed, and distribution flow. We also offer other conveyors, elevators, and feeding systems.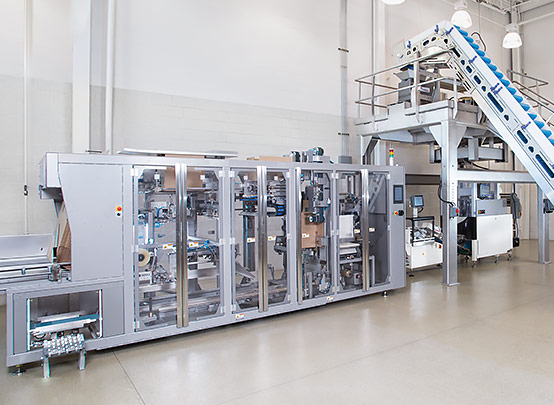 WEIGHING AND PACKING
Our partnership with Ishida, a leading producer of weighing and packaging systems for food, pharmaceutical, and industrial products enables a full range of integrated weigher-bagmaker systems, product infeed equipment, and finished package handling machines.
INSPECTION
Our checkweighers, X-ray machines, metal detectors, and vision inspection systems from our partners and leading manufacturers Ishida and CEIA® improve inspection processes for food, pharmaceuticals, and non-food products.
CONTROLS AND INFORMATION SYSTEMS
We offer a complete control and information system solution, from design to manufacturing to operation and data management, so you can achieve full line optimization.
I love Heat and Control's commitment to problem solving and innovation. We feel more at ease working a project and know it's going to be represented and done right.

Jeff Fuhrman
Executive VP Of Engineering, UTZ Quality Foods
Every phase of the project exceeded our expectations... In my long experience in this industry that is a very rare thing. I sleep very well at night!

Mike Schena
President And COO, Better Made Snack Foods, Inc.
We chose Heat and Control because of their competitive price and good reputation for service after the sale…Their sales and project management people were very helpful and have a lot of experience in our industry.

Michael Patrick
General Manager, Brimhall Foods Company, Inc.
At the completion of the project, all objectives and critical criteria have been met and the results have overwhelmingly surpassed all expectations.

Kevin Shaw
Director Of Continuous Improvement, Maple Lodge Farms, Ltd.
Heat and Control had the equipment, quality, and reputation that we were looking for. Their sales, project management, installation, and start-up was excellent and very professionally handled.

Nithin Poulose
Junior Vice President of Operations, Tastee Choice
At Gold Creek Foods, we measure success by exceeding our customers' expectations; we succeed by partnering with companies like Heat and Control that also go the extra mile.

Blake Wikle
General Manager Of Prepared Foods, Gold Creek Foods
Product Categories
Our expertise extends across a wide range of industries, applications, and categories.
Food Processing
We have invested in decades of research and development to advance the quality of food products. Our commitment to the industry has revolutionized food production and helped brands create products that consumers love.
Seasoning Application
We've worked with food companies around the world to create products consumers love. Our comprehensive range of seasoning solutions deliver top performance, efficiency, application accuracy, and of course, great flavor.
Conveying
We provide a wide variety of innovative and dependable conveying and product handling systems to move product through the line as efficiently as possible.
Weighing
Since 1893, Ishida has revolutionized the industry with inventions like the ultra-precise Computer Combination Weigher (CCW). Whether you need entry-level or advanced equipment, Ishida can provide the exact match for your needs.
Packaging
From tray and container filling to fully-automated and integrated snack food packaging systems, we provide end-of-line solutions that will give you performance advantages in the busiest section of the line.
Inspection
Protect your consumer and your equipment with industry leading package testing and contaminant detection technology. Efficient detection of foreign objects is critical to consumer safety and brand survival and will also protect machinery and prevent downtime. 
Controls & Information
We've created the next generation of smart controls with the look and feel of a modern app. Plant personnel become experts thanks to situational awareness themes, advisory notifications, and real-time vitals that transform ROI.
Support Structures
We look at all aspects of your plant and proposed equipment, then design a customized support structure and platform system that meets hygiene standards, drives efficiency, reduces installation time, and helps manage costs.