Conveyors have transformed food manufacturing and have become instrumental in the design of efficient production lines. Until the 1990s, vibratory/shaker conveyors were the industry standard for potato product manufacturing. These rugged but loud conveyors had countless applications, but though found in many industrial plants, they were not ideal for all industries.
Where did the idea for Horizontal Motion conveyors come from?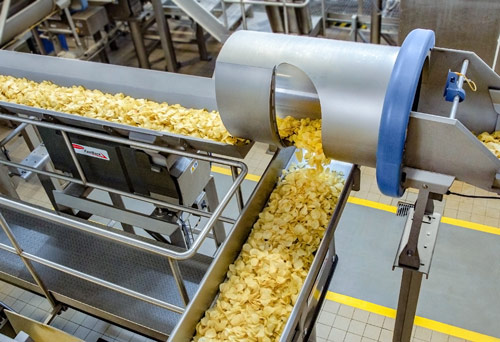 I had worked in the food industry for a long time and recognized the need for a robust, maintenance-free, quiet conveying solution that also was gentle enough to avoid product breakage, segregation, and loss of coatings. In 1995, my father and I introduced the FastBack® horizontal motion conveyor (also called horizontal differential-motion conveyor). Since its introduction, the innovative horizontal motion conveyors have emerged over vibratory/shaker conveyors and now account for most of the non-processing sanitary conveyors used in french fry and potato chip applications. The reasons are clear: the gentle motion technology improves the finished product quality delivered to clients by eliminating product breakage, reducing or eliminating seasoning and coating fall-off, reducing sanitation down-time which increases productivity, and reducing ambient noise levels, positively impacting employee welfare.
What do potato processors expect from conveying systems?
Potato processors typically expect their vendors to offer excellent full support and to have deep potato industry knowledge, starting from knowing product traits to system design, including processing and handling, right through to packaging for the full life of the equipment. 
The potato market has several unique challenges, including high volumetric capacities (40 tons/hr for the french fry industry, 3,000 kg/hr and more for the potato chip market), as well as many common operational challenges, such as ever increasing labor costs, manpower shortages, operator trainings, and production demands that make uptime essential. Generally, there is a strong need for engineering and technical support during and after system installation and commissioning, so it is important to choose a company with strong global support.
How do horizontal motion conveyors benefit potato processors?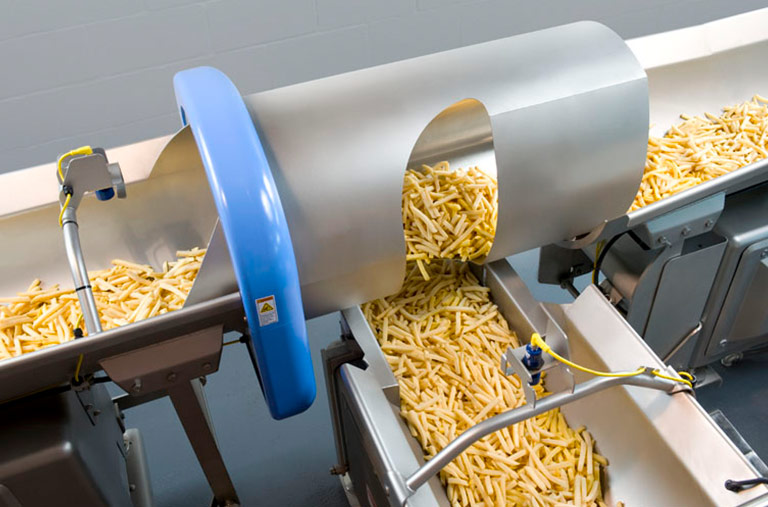 Beyond the main benefits of gentle motion and low breakage, horizontal motion conveyors deliver an extremely long life, providing extended operating hour intervals between maintenance items. For example, the Heat and Control FastBack typically provides more than 100,000 operating hour intervals between items, and its IP65-rated systems facilitate both wet and dry sanitation with their minimal surface area and smooth, easy-to-wipe-down enclosures. Horizontal motion conveyors build on key performance metrics critical to the potato industry, including product quality, product yield, total cost of ownership, uptime, labor reductions, and total system efficiency.
What else do potato processors usually consider?
Quality, reliability, ROI, sanitation, uptime, response time, and value are universally sought characteristics regardless of a company's geographic location. For many, one of the key considerations is ROI, and horizontal motion conveyors provide high value up front, low operating costs, exceptional longevity, and superior performance, especially in the areas of product efficiency, packaging efficiency, and overall uptime.
What role does automation play in market success?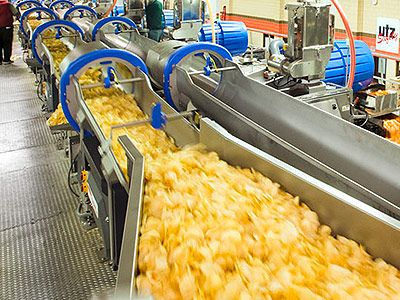 One of the biggest challenges to potato processors is the cost of training and the turnover for these positions, even prior to the pandemic. Efficient automation is a key piece of market success with ongoing labor challenges. Automation allows potato processor staff to operate multiple systems and also makes the line more efficient if executed correctly, allowing companies to take care of their very best operation talent. Quality equipment makes average operators good and good operators great, allowing producers to continue to evolve in their operations.
Is energy efficiency a big consideration?
Saving energy and other resources, as well as obtaining a higher throughput, have always been significant factors, but their importance are a growing area of concern around the world. As a total unit operation, conveying systems account for a very small percentage of overall factory energy usage (less than 1% in many cases); however, even this low percentage is scrutinized.
Since their beginning 70 years ago, Heat and Control always has been pressing forward and innovating, so they have been proactively pursuing energy savings, in line with the company's drive to continually improve. An example of this is their use of advanced electrically driving accessories, such as the patented Revolution® Gates in lieu of pneumatic gates, which use 4X less energy. The Revolution Gate provides a safer gate system and is designed to prevent product breakage, to eliminate maintenance-heavy pneumatics, and to deliver proportioned product for improved packaging feed and efficiency and addresses food safety with its leak-proof design that eliminates all concerns of cross contamination.


CLICK HERE TO LEARN MORE ABOUT FASTBACK