Weighing is an essential component in every consumer goods production line, and as a primary tool for portioning, it is imperative that its performance remains at optimal levels to ensure product quality while minimizing giveaway. Because computer combination weighing (CCW), i.e., multihead weighing, is well-known to accelerate the packaging process, here are four important factors when using multihead weighing/scale systems to weigh anything from food and non-food consumer goods to pharmaceutical products.
Accuracy and efficiency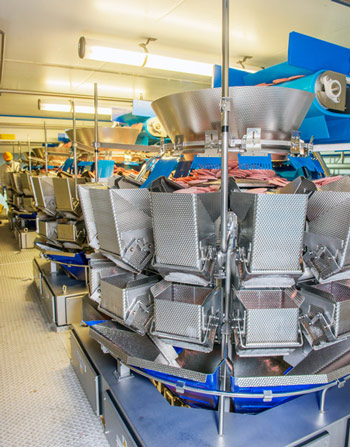 The technology available in Ishida multihead weighing has advanced significantly, offering accuracy and efficiency with software improvements, fast digital filtering, anti-floor vibration, fast processing, and precise feeder control. Controls systems provide optimal product feeding and external vibration control for more accurate weighing. Algorithms that can calculate three optimal weight combinations, double-check them, and then select the one nearest to the target weight–all in a single cycle, minimizing error discharges, increasing efficiency, while also enhancing weighing accuracy and consistency. Fast data transmission enables the weigher to respond more quickly to control inputs, and enhanced automatic filters and faster filtering of the weigh speed signal from the load cells speeds up stabilization. Because of the reduced settling time, more heads are available for inclusion in the combination calculation thus increasing the range of weight options and improving accuracy. All these advanced technologies increase performance speed, reduce giveaway, and offer maximum return on investment.
Weighing experience and expertise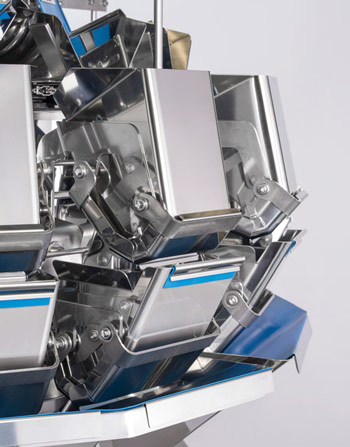 Ishida's multihead weighing technology can be used in countless sectors; applications range in the thousands and each application has unique characteristics. Choosing a supplier, such as Heat and Control, with wide experience and expertise in multihead weighing technology applied across multiple product lines will influence performance. To properly understand the multihead weighing function and the factors involved in the weigher decision making process, it is important to include these aspects: attention to detail of the process, multihead weigher choices, up and downstream associated equipment, and product characteristics. Configurations should be available to address a wide variety of elements/ challenges such as product integrity, capacity, and speed, including product feed/flow rates, package sizes, and packaging format. For example, when a system requirement is to maintain product integrity of a fragile product (i.e., minimize breakage), the overall system stack-up should be addressed to ensure each transition point, including infeed to scale, scale to vertical form fill seal, and discharge, will minimize breakage. Key weigher features include specially designed hoppers and reduced hopper angles that enable the products to slide rather than fall through the weigher. Further, by slowing down the speed of each weighment as it passes through the weigher, breakages are significantly reduced. Also, Ishida weighers feature a robust design capable of operating in harsh environments and tough products by providing resistance to wear and water ingress and improved hygiene and accessibility. Additionally, CCW weighers give greater access to product contact parts for more efficient high-pressure washdowns. These factors work to reduce cleaning time, to maximize weigher availability, and to maintain hygiene standards.
Integration and automation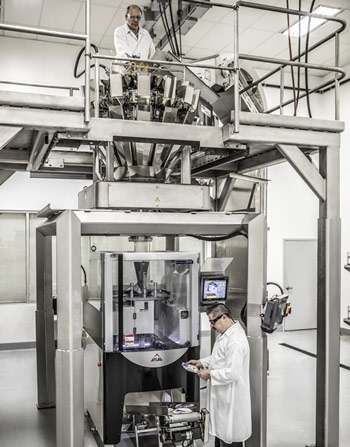 Machine networking, communication, and data management, coupled with automation, has become key to increasing total line performance. Processors now want more data and information, and modern systems are engineered to work and to communicate together, making it easier to obtain accurate production details in real time and to make quick calculated decisions, offering compounding benefits. Today's automation also shifts much of the complicated decision making away from the operators so they can focus on productivity and quality of the finished product. Unscheduled downtime due to decision making error can have significant impacts on performance, and if automated adjustments can be made in the packaging room as they occur without noticeable effects on operation, total line performance is improved. A single smart and simple user interface is also important so that operators can enter basic information for multiple machines quickly and easily.
Ishida weighers seamlessly integrate with Heat and Control processing equipment upstream and Ishida inspection equipment downstream so an operator can bring automatic optimization of the weigh signal filtration, product feeder vibration, and timing to ensure consistent high-performance weighing. An operator can control the weigher from practically any desktop, portable, or hand-held device. Diagnostics can be performed by wire or wirelessly to reduce the need for in-plant service calls.
Support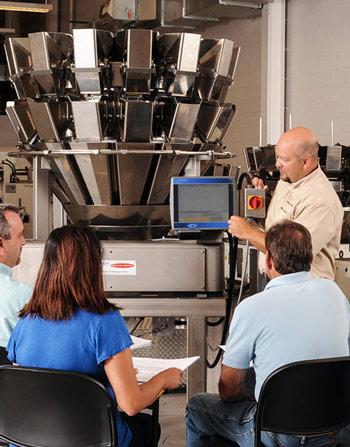 Heat and Control has an in-house network of engineers, food technicians, field service technicians, skilled tradespeople, and support teams and has built an extensive knowledge bank and developed a wealth of experience and expertise. We can help optimize the production process at any stage—from design to implementation to application support. With hands-on expert knowledge, we offer dependable equipment with the latest technology for optimal performance along with post installation, service, and spare parts for the life of the equipment.
If a problem arises or a unique weighing situation presents itself with a new product, as production experts, we can reduce troubleshooting and resolution time. Our quality training gives our clients' operators the ability to improve production output and efficiency. With operator turnover continuing to be one of the most challenging aspects of production, training is critical to improve and to maintain operator efficiency and identification of maintenance issues before problems occur.
Heat and Control helps optimize each application goal to achieve the highest speeds while minimizing any giveaway, reducing loss of production time, and maintaining high performance.


CLICK HERE TO LEARN MORE ABOUT ISHIDA