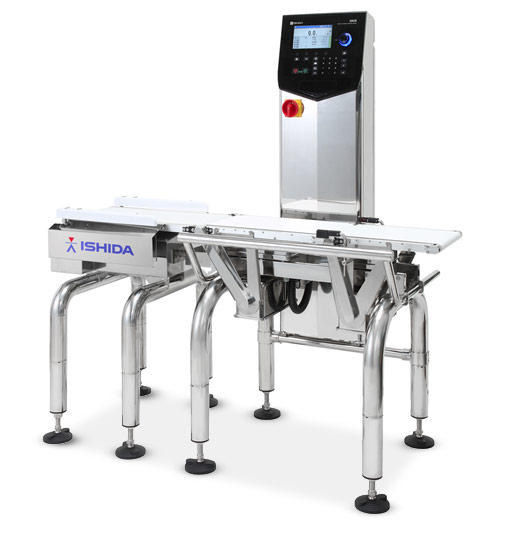 Ideally, after a product is packaged, it is ready to be boxed and shipped to a customer. Unfortunately, that is not always the case—the product may be underweight or overweight, may have become damaged during production, or may contain foreign material, such as a piece of metal from a processing machine. Checkweighers are designed to divert inferior product off the production line. Depending on a manufacturer's product, Ishida provides several rejector arm options to optimize the checkweighing process.
Verification, sanitation, and set-up
Ishida DACS checkweighers provide quality assurance and customer satisfaction with accurate verification of package weight, product count, or detection of missing components. Checkweighers are available in stainless steel for non-washdown and (IP69) washdown applications, and quick-release infeed and weigh conveyors in the open frame design makes cleaning fast and simple. For easy set-up and operation, there is a large intuitive touch screen control panel and product presets for quick changeovers. The checkweigher can be combined with a CEIA metal detector and/or an Ishida X-ray machine for reduced floor space and common reject station to separate improper weights from metal contaminants/foreign materials. The latest DACS-GN series offers superior accuracy.
This advanced premium weight checking series utilizes unique and proprietary digital load cell technology to deliver unbeatable accuracy and speed when inspecting the weight of packaged goods.
Features
The Ishida DACS-GN Checkweigher features a variety of customizable system options including weighing sensors, weighing capacity, conveyor size, remote control, and durability specifications so you can select the optimum product configuration for your production line.
Checkweighers are mainly used as the last step in quality control. Products are weighed as they move through the checkweigher, rejected if improper or contaminated, and continue on to packing for shipping. Flexible weight capacities, depending on the product, can measure from 600.0 grams in 0.5 gram graduations, up to 6000.0 grams in 2.0 gram graduations.
Ishida checkweighers are often preferred by food manufacturers based on quality, performance, durability and Heat and Control's service and support. Ishida provides a variety of models and options to create a customized inspection system to meet your production needs.
Pre-assembled and available with a common reject conveyor, the Ishida DACS checkweigher and CEIA metal detector combination systems deliver unbeatable inspection performance with a space saving footprint. We offer seven rejector arm options to streamline the process and to maximize the speed on the line. Following are the options with a description of how they differ:
Arm Rejector
Arm rejector is a general-purpose system, ideal for thick bagged products and boxes. It is the most common type of rejector; products are pushed aside by the rejector arms.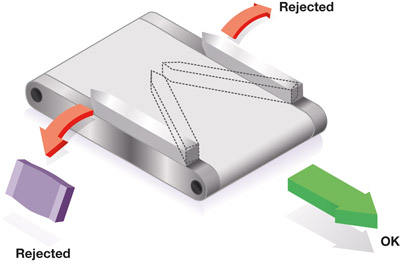 Air Jet Rejector
Products are blown off the line sideways by a powerful air jet. It is ideal for small, lightweight packaged products at high speed.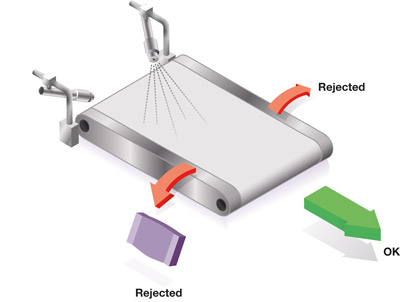 Drop Belt Rejector
Drop belt rejector sorts products with a vertically movable belt. It is suitable for rejecting thin products, for unpackaged products, and for sticky bulk products. A section of the belt lowers during the rejection to let the product fall.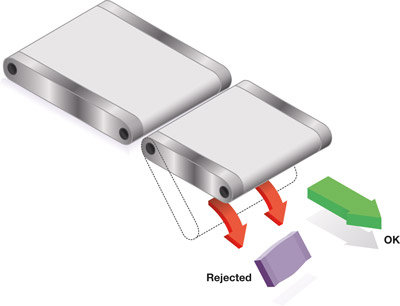 Drop Up Belt Rejector
Up flap rejector has a vertically movable flap that allows product to drop below it. It is suitable for separating small bulk items and for products in thin bags.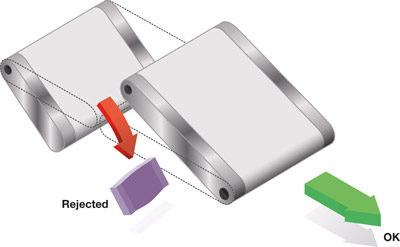 Fin Rejector
Products are carried off either left or right by belts running crosswise to the product flow. It is suitable for rejecting large packaged products.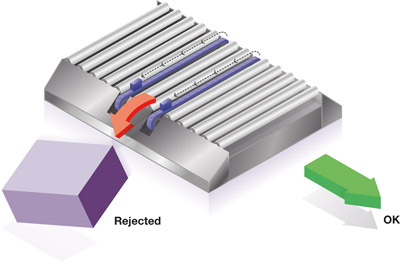 Drop Flap Rejector
Drop flap rejector has a vertically movable flap that moves downward to sort products. It is appropriate for sorting light and non-sticky products and for products in thin bags.
Push Plate Rejector
Push plate rejector sorts products on a conveyor using an air-driven device to push products off the line sideways. It is suitable for rejecting heavy items such as cardboard, packages, and kraft paper products.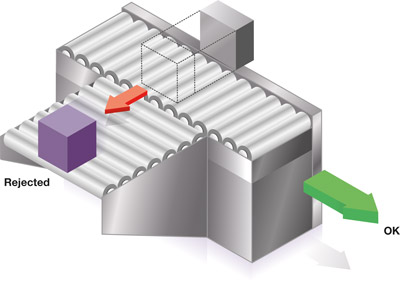 ---
Metal Detection Combination Checkweigher
Achieve accurate high-speed package inspection of all ferrous and non-ferrous metal contaminants including stainless steel, as well as verification of current product weight or count, with this space-saving combination of an Ishida checkweigher and a CEIA metal detector. Click here to learn more.