More Flavors and Mixed Products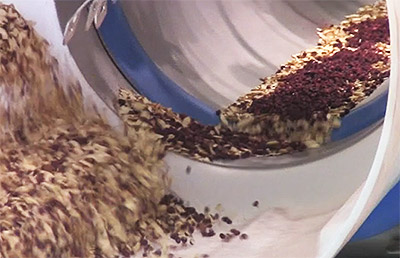 Snack producers have been increasing flavor and mix options in an effort to meet consumer interest in global and non-traditional flavor options. Consumers can now find chips in a variety of flavors (e.g., hot dog, fruit, cappuccino, sushi, butter chicken, beer flavored), as well as Sriracha-flavored almonds, dill pickle-flavored cashews, coffee-flavored jerky, and wasabi-flavored coconut chips. Beyond the longtime commercial snack mixes, new snack combinations are limited only by a snack producer's imagination. The following ingredient combinations are top sellers on leading online site:
Dried cranberries, dried mango, roasted almonds, walnuts, and pumpkin seeds
Peanuts, almonds, pumpkin seeds, walnuts, pistachios, dried pineapple chunks, papaya chunks, dried cranberries, and raisins
Breadsticks, pretzels, and rye chips
Raisins, peanuts, dried sweetened papaya chunks, dried sweetened pineapple, sweetened dried banana chips, sweetened dried mango, cashews, dried coconut, and Brazil nuts
Pistachios, almonds, dried apples, dried cherries, and dried lemon peel
Cheese puffs, popcorn, whole grain chips, whole grain and whole flour cereal squares, and pretzels
Spicy peanuts, almonds, salsa corn sticks, sesame sticks, and sesame seeds
Diced pineapple, raisins, golden raisins, diced dates, cranberries, diced papaya, dried apricots, and dried apples
This trend puts greater pressure for efficient recipe changeovers to minimize both product waste and production downtime.
High Volume Systems
Many clients are looking for high volume systems with the capability to feed several packaging stations with a fully blended product. Examples of this are: snack lines that pair at least two of the following products: potato chips, extruded products, popcorn, tortilla chips, pork rinds, extruded products, mixed nut lines, and cereal lines. Some of these lines handle more than 2000 kg/hr. and feeding multiple packaging lines. These lines strike a great balance between accuracy, cost, automation, and volume.
High Accuracy Systems
Lines that have high value components, such as expensive nuts, or exact ingredient needs for nutritional needs or customer acceptance can benefit from the Ishida weigher blending methods.
High Accuracy and High Volume
Many systems require both high volume and high accuracy and benefit from hybrid systems that combine the benefits of both. Examples of these are snack food blends that also have a high value component, such as salty snacks with chocolate bits for a sweet and salty mixture.
Blending Features to Consider
When looking for an industrial blending machine, there are many factors to consider to ensure the right choice for specific needs. Here are 10 key features and considerations:
1. Capacity: Determine the desired capacity or volume of the blender based on production goals. Consider the size of batches needed to process to ensure the blender can handle the desired quantity.
2. Feeders: Consider both into and out of the machine because the speed and the loading techniques for inflow and outflow impact throughput and which machine will perform best.
3. Mixing speed and efficiency: Evaluate the blending machine's speed and efficiency, and the time required to blend the specific materials. If the blender has adjustable speed settings, it can then accommodate different materials to achieve the desired blending results.
4. Construction materials: Look for a blender made from robust, durable, food-grade materials, such as stainless steel, carbon steel, and/or specialized alloy. These materials are resistant to corrosion, wear, and contamination.
5. Customization options: Determine whether a standard model can produce the production goal within the projected timeframe. If the production goals require adjustments due to floorspace availability, other machines, and/or other physical aspects of the space where the blender will operate, make sure the manufacturer can create a custom solution to meet those goals.
6. Ease of cleaning and maintenance: Blending equipment must be absolutely clean to avoid contamination, potential bacteria growth, and product quality degradation. Look for blenders with removable parts; smooth, welded finishes on all parts both inside and outside; easy viewing of surfaces for cleaning and inspection personnel; easy access for cleaning; and features that facilitate quick and thorough cleaning to minimize downtime. Also, gaskets and seals should also be airtight, preventing powders from escaping, but also should be easy to replace when worn. Finally, the machine should not require extensive training for operators to learn how to clean the machine.
7. Safety features: Prioritize operator safety. Look for built-in safety features to protect both users and the equipment itself such as emergency stop buttons; overload protection systems, which automatically shuts off the motor if it becomes overloaded; secure locking systems to prevent accidental operation; safety interlocks, which prevent the blender from operating if the jar or lid is not properly secured; and guarding mechanisms to ensure safe operation and to avoid accidents.
8. Automation and control: Consider the level of automation and control offered by the blending machine. Advanced features, such as programmable recipes, touch-screen interfaces, data logging, and remote monitoring can enhance safety, consistency, and productivity.
9. Energy efficiency: Industrial blenders can consume substantial amounts of energy, so models that prioritize energy efficiency may offer a better total ROI. Look for blenders with features such as variable frequency drives that optimize energy usage based on the blending requirements.
10. Reputation and support: Read customer reviews and seek recommendations from industry professionals to find a manufacturer with a reputation for quality, reliability, and after-sales support that provides assistance, spare parts, and technical support when needed.
Also, an experienced vendor may have knowledge about alternate techniques to optimize processing for application-specific requirements. The best manufacturers not only provide support and consultation during the specification and selection stage, they also offer those services throughout the whole lifecycle of the machine and create a partnership that continues as both organizations grow.
Solutions from Heat and Control®: FastBack® Blending Systems and the Ishida CCW Blending Multihead Weigher
In order to meet the challenges of growth, labor productivity and accuracy, Heat and Control® offers FastBack® Blending Systems and the Ishida CCW Blending Multihead Weigher automated blending systems to cover a full range of needs.
FastBack Blending Systems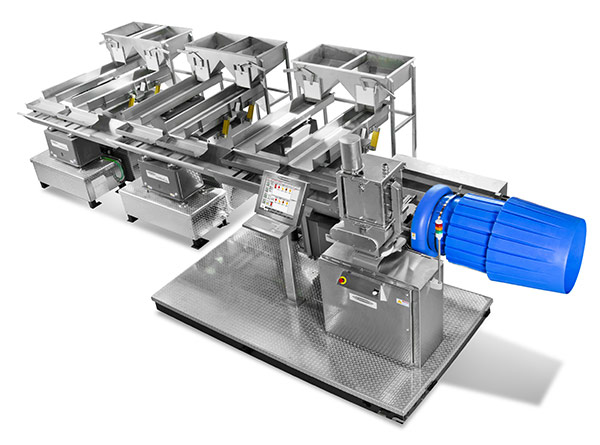 The FastBack® Blending Systems ("Blending Systems") is a compact, load cell-based set of equipment that delivers several fine-tuned product streams to customers' ratio specifications and mixes them in a tumble drum. The New Horizon operator interface makes recipe selection and routine operation simple and intuitive, and the utilization of FastBack conveyors provides gentle handling. Blending Systems achieves the complex task of producing balanced blends by providing consistent component streams, metering components with dependable accuracy, and conveying blended components without segregation.
The system's modular design uses rugged, hermetically sealed, stainless steel IP68 high-resolution load cells (for the most demanding environments) and the patented dynamic AccuFlavor™ Tumble Drum to improve the product blend and facilitates seasoning immediately prior to packaging. The system is expandable to ten positions so a single Blending System can meet current and future requirements, as well as enables manufacturers to produce complex blends that are impossible with a blending scale. The quick-disconnect weight trays and wipe-and-go sanitation minimize cleaning time.
Heat and Control combines the two methods of high accuracy and high volume into a hybrid unit using the high volume for the salty snack side to reduce the cost and quantity of feed systems and using a two-part blending weigher to mix in the high value component.
Ishida CCW Blending Multihead Weigher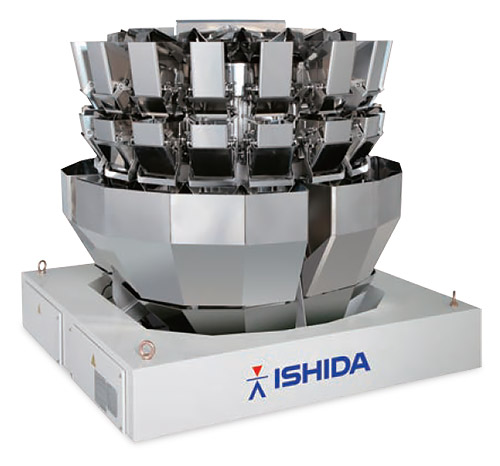 Ishida created computer combination weighing technology more than 50 years ago and continues to lead the industry. Ishida CCW multihead weighers provide the industry's most advanced weighing performance and accuracy along with water-resistant construction and sanitary design. Different heads on the same multihead weigher are dedicated to one component and its specific target weight. Each of these dedicated sections on the weigher, from infeed to discharge, operates as its own scale system for that component. The accurately weighed components are combined to the specified total target weight and then discharged together to the packaging machine.
Mixing the components of a blended product on an Ishida weigher/scale ensures that the right blend proportion goes into every package. Weighing-blending provides tight weight control of all ingredients and helps to maintain strict portioning of higher cost ingredients. Label requirements are met without having to overcompensate for possible segregation of pre-mixed components during distribution to the packaging line. Ishida CCW Blending Multihead Weighers are a combination of advanced software, digital filtering, and precise feeder control that reduces product giveaway and delivers higher yield.