The Atlas Series (Atlas), the previous snack bagmaking model series, revolutionized snack bagmaking technology and became an industry benchmark in high-speed snack operations. Atlas' versatile twin-jaw system and innovative continuous back seal system were key to its success in the industry. Always seeking to improve, Ishida continued to invest heavily in R&D and tasked their engineers to continue to explore and to refine their machines in order to provide a solution to industry's call for more automation and for better communications between weigher, bagmaker, and other packaging room equipment.
Ishida has released to market the result of their extensive R&D, including groundbreaking design improvements: Inspira Series, the next evolution of VFFS technology.
Abundance of Benefits
The Inspira bagmaker has been designed to deliver highly efficient packaging speeds which allows a snack food processor to pack product quickly and carefully. When integrated with other Ishida equipment, Inspira offers a consistent, market-leading forming and sealing performance of up to 180 bags per minute in production.
The highest levels of efficiency and seal quality are achieved with new motor and drive technology, also improving the positional jaw control at the point of sealing. This innovation reduces chances of damaged products and, most importantly, maintains freshness of the product.
In addition to impressive performance upgrades, Inspira also delivers reduced energy and air consumption and lowers operating noise levels. The new design offers exceptional ease of access for operation and maintenance. New features help an operator to act (and to react) more quickly and more intuitively, removing the need for complex decision-making and unnecessary physical exertion.
Multiple Bag Types and Sealing Options
Most snack food processors produce a variety of snacks. Choosing packaging equipment that can cater for a range of shapes, sizes, seasoning, and densities is best practice. The Inspira snack bagmaker provides this versatility and is designed to form flat (pillow), flat with punch-hole, block bottom, gusseted bags and offers two sealing options, lap or fin. Inspira also handles modified atmosphere packaging and paper packaging.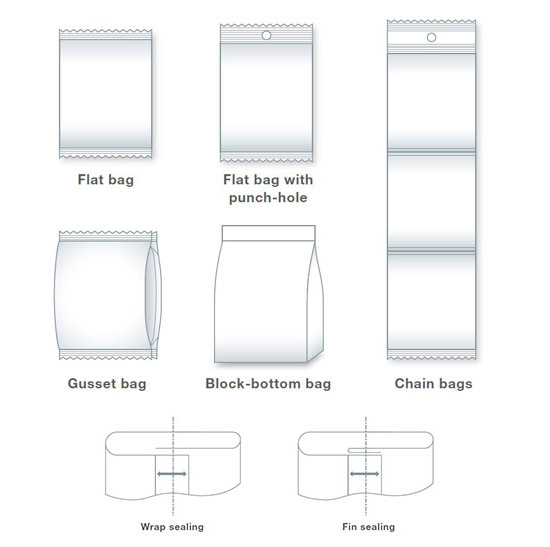 Box Motion or Rotary Motion?
Inspira offers box or rotary motion film feed and sealing options to suit different products, bag types, and bags per minute speeds requirements. Box motion is ideal for high-speed lines that need to form multiple bag shapes, including high-speed pillow and chain bags, and is also suitable for thick film. Rotary motion double jaw is best for ultra-high speed, while rotary motion single jaw is best for medium-to-high speed. Thin sealant film is recommended for rotary motion which stops end seal leakage by utilizing a hot knife and high seal pressure.
Auto Splicer Innovation
Inspira has many new features which improve film changeover times and reduce film waste when changing over to a new roll. The auto splicer feature keeps production running by automatically joining the end of the expiring web roll to the leading edge of the new roll, removing the need for operator involvement. Auto tracking enables the new roll to track correctly, and registration mark recognition splices the two rolls together to minimize film waste during changeover. The auto splicer helps prevents human error and reduces film loss. Rapid ROI is possible because of increased productivity and automation.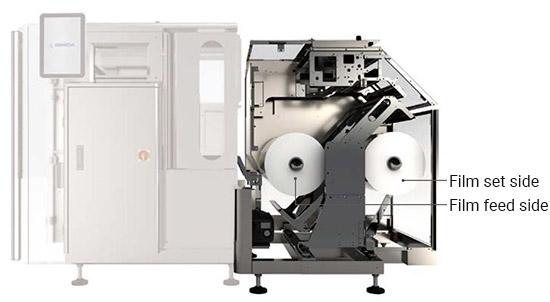 This feature enhances production efficiency by reducing splicing time by 85%. An accumulator (festoon) holding material storage keeps production running while the splice is taking place. When the splice cycle is complete, the accumulator is re-filled, and the expired roll can be changed while the new roll is running.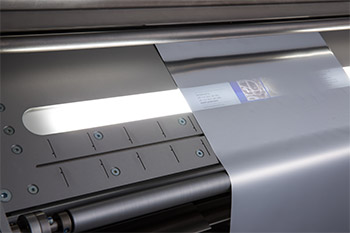 The new splice table light-bar provides easier/faster film splicing, simpler film-feed with fewer rollers, and error-free forming tube insertion and removal.
Other features include film pattern alignment function and film positioning mechanism which facilitate automatic adjustment in the machine, removing wait time when film ends. Film splicing only takes 20 seconds, significantly reducing production downtime.
Packaging System Integration
A key factor in the overall efficiency of a high-speed packaging system is integration with up- and downstream equipment such as a seal checker and automatic case packer.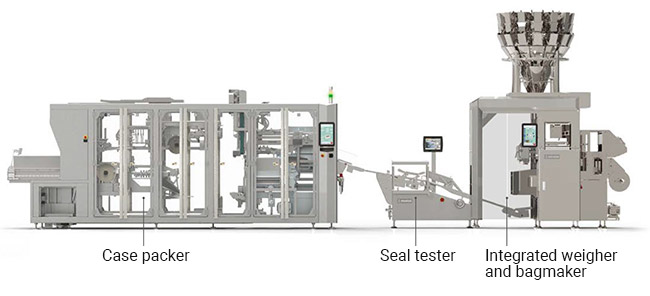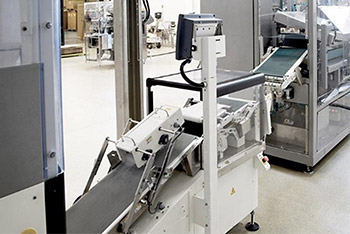 Ishida's in-line seal checker, TSC-RVS, utilizes feedback communications to the Inspira to manage bag thickness. The TSC can continuously monitor fill level and compare bags to the targeted value. In manual operations, an operator can compensate for variations in bag fill and bag thickness by applying increased pressure or manipulating the bag into a pack pattern. The combination of seal testing with bag thickness measurement with results being fed back to the bagmaker enables production of consistent bag thicknesses because the bag air fill is automatically adjusted.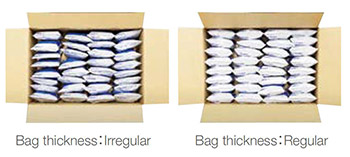 For lines that incorporate an automatic case packer, thickness consistency is essential. Over or under filled bags can lead to line downtime to remove incorrect thickness of bags from a packed box. Underfilled bags can cause a poor appearance, and underfilling a case can result in damage to the product in transit due to bag movement. The Ishida Automated Snack Food Case Packer (ACP-702) receives pack air-fill data directly from the Ishida TSC-RVS seal checker, making instant adjustments to ensure reliable pack handling.
Market success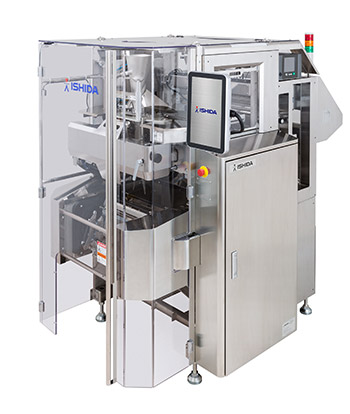 Ishida's bagmakers are already recognized by snack food processors as the industry benchmark in packaging technology. New features on this already market-proven equipment shows clear industry leadership from Ishida and displays a carefully-considered response to real customer feedback.
Inspira's design innovates all the most critical areas of the snack bagmaking process: product and film handling, seal quality, accuracy, efficiency, weigher interface, changeover, and control and communication functions. By incorporating the latest technology available, Inspira significantly improves its performance, and its new features are earning it market success in the snack food industry.